Some gorgeous pictures of the team drawn by the children!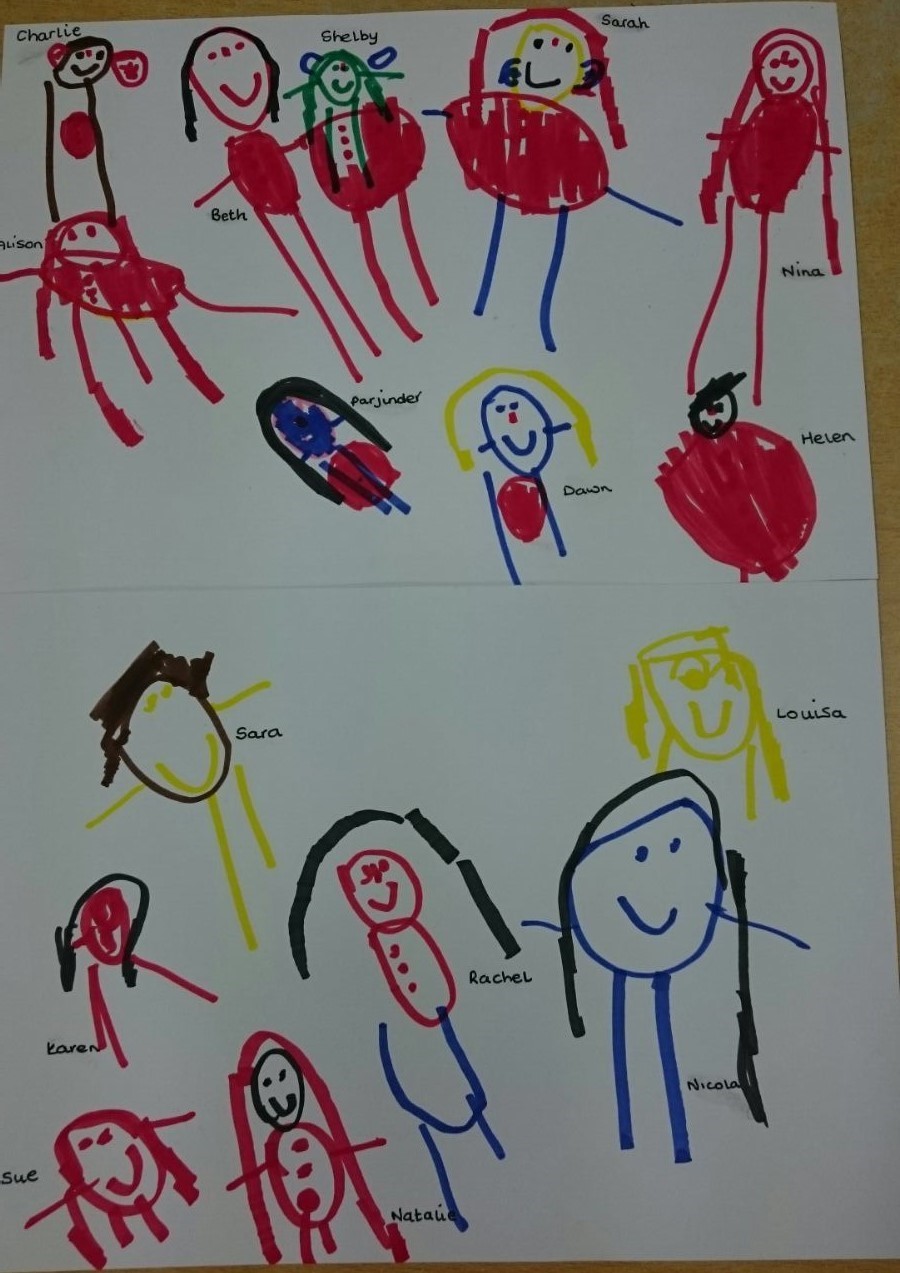 Our Team
Charlie Wardle – Manager
Charlie volunteered as the Pre-School Chairperson for four years before becoming Manager in October 2014.

Charlie loves reading stories to the children putting on the funny voices of the characters both to her own children and the children who come to pre-school.
Charlie has undertaken the following training:
NVQ 2 & 3 Early Years Educator, Working towards Level 5
Equality and Inclusion in Health, Social Care and Children's and Young People's settings.
Awareness of Child Abuse and Neglect Foundation
Health and Safety in the Workplace
Safeguarding Working together Module 2
Paediatric First Aid
HND Business and Personnel
Data Protection Officer
Lara Kimble - Team Leader and Designated Safeguarding Lead

Lara has recently got married and has a lovely doggy called Buddy. She loves any activities with the children, particularly anything involving singing!

Lara has the following qualifications:
NVQ Level 3 in Childcare
Paediatric First Aid
Designated Safeguarding Lead
Sara Goodall - Early Years Educator

Sara has many years of experience working with children having worked as a Teaching assistant and working with us originally in 2004. Sara has specific responsibility for coordinating care for any "looked after children" within Pre-School.
Sara loves taking the children out for walks around the village and helping them in learn about their environment.
Sara has the following qualifications:
NNEB Diploma in Nursery Nursing
Level 3 Teaching Assistant
SENco
Looked After Children Co-Ordinator
Safeguarding Co-Ordinator
Paediatric First Aid
Diabetic Pump Training
TAC Training
Behaviour Management
Sue Gordon – SENco Co-ordinator

Sue joined us in 2009 and completed her NVQ level 3 in July 2011. She then undertook her Special Education Needs Training in October of the same year.

Sue has the following qualifications:
NVQ Level 3 in Childcare
SENCo Training
Happy Handz Stage 2
Safeguarding 3a
Cache Level 3 in Speech and Development
Pediatric First Aid
Behaviour Management

Alison Denman – Forest School Leader

Alison was a parent helper before she applied for the position of Pre-School Assistant in 2005. Since joining the team Alison has taken on various positions and is now our Forest School leader.
Alison loves being outside exploring and planning new activities for Forest School. She has two teenage children and a crazy springer spaniel called Poppy.

Alison has the following qualifications:
NVQ Level 3 in Childcare
Cache Level 3 in Speech and Development
Makaton Training
Safeguarding 3a
Forest School Level 3
Pediatric First Aid
Health and Safety Training

Dawn Kelly - Early Years Educator and Speech and Language Co-Ordinator

Dawn has been with us since 2015 and is a very creative member of the team! Dawn has recently completed her Level 3 in Early Years.
Dawn enjoys doing arts and crafts with the children and reading them stories.
Dawn is fully qualified in Paediatric First Aid
Speech and Language Level 3
Natalie Kearney – Book Keeper

Natalie has been part of the team since 2010. Natalie was our treasurer on a voluntary basis and then joined as Book Keeper in 2012. Natalie also enjoys working in the room with the children on a Monday.
Natalie loves animals and being outdoors looking after her ponies.

Natalie has many years of book keeping experience and trained in Paediatric First Aid.
Kathryn Jones - Early Years Educator - Shadowing SEN
Kathryn joined us initially as cover staff but has very quickly become a valuable member of the team. Kathryn has recently completed her level 3 in Early Years and is shadowing Sue in her SEN role.
Sarah O'Toole - Early Years Educator
Sarah has previously helped as Cover staff and has now joined the team as a Pre-School Assistant. Sarah is hoping to begin her Level 3 in Early Years this year.
Cathy Atkinson - Early Years Educator
Cathy started with us in September 2019 and is currently studying for her Level 3. Cathy has previously been involved with Cha Cha Chimps and so loves anything musical!
Karen Widdowfield - Early Years Educator
Level three qualified.
Karen comes with a wealth of experience from other settings and has a grandchild also attending the pre-school.
Karen Walduck - Cover Staff
Karen used to work in a school for much older children but now covers in preschool where her grandaughter also attends.
Rachel Bramley - Pre-School Administrator

Rachel was employed as our Administrator shortly after we moved in to our new building. She joined the team in 2011 and since then has taken over the administration of our waiting list in addition to the regular administration role.
Rachel really enjoys working at Pre-School, she says "the team are all very passionate and committed to what they do and I am proud and lucky to be part of such a fab team!" Rachel and her husband have two glorious boys who both came to preschool and they enjoy adventures galore when they get the chance!

Rachel has attended the following Training:
Safeguarding
Paediatric First Aid
Early Years Pupil Premium Co-ordinator
Data Protection Officer